No images? Click here

Healthcare industry news
October 2020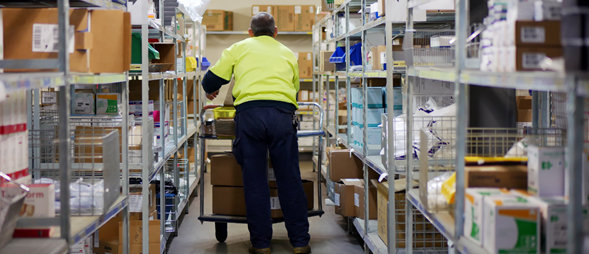 Standards in action across healthcare
Our focus is to work collaboratively with industry to support improvements to safety and quality in Healthcare through the implementation of GS1 standards.
This newsletter highlights some of the initiatives within the local and global community where GS1 standards play a role in improving Healthcare. 
A global online conversation to discuss the future of standards for healthcare 
Join us for the GS1 Global healthcare summit from November 17 - 19, where we bring together leaders from across the globe. This event includes speakers ranging from government and regulators - to pharmaceutical and medical device manufacturers and wholesalers - to clinicians and other representatives from hospitals, all of whom will share their unique perspectives and expertise. 
Important: Australian UDI system consultation now open
The second consultation into a potential future Unique Device Identification (UDI) system for Medical Devices is open until 18 November 2020. All stakeholders from across healthcare are encouraged to provide feedback to ensure all perspectives are considered in the process. 
Global data standards can bring resiliency to global supply chains 
A standardised digital supply chain can mitigate risk and provide the solutions the world needs for recovery and resilience. GS1 recently provided 10 recommendations to the UN as part of their Policy Hackathon on Model Provisions for Trade in Times of Crisis and Pandemic in Regional and other Trade Agreements.          
Updated ISO 16791 standard: Requirements for international machine-readable coding of medicinal product package identifiers
This document outlines best practice for AIDC barcoding solutions, providing guidelines on identification and labelling of medicinal products from the point of manufacture of the packaged medicinal product to the point of dispensing the product.         
Connecting the supply chain to the patient    
As healthcare around the world continues striving to deliver the best and safest care, the realisation that the supply chain must be connected to patient care is increasingly being driven by clinical leaders. This new animation from our Clinical Advisory Committee helps to show how the two meet.  
Training and events
Don't miss the specific training GS1 provides to support healthcare implementation of standards. 
Did you know?
As a GS1 Australia Member you have access to a range of services.
If you need help with:  
Managing and sharing your product data with your trading partners

Being better prepared for Product Recalls and managing the risk to your brands

Sharing location identification and data with trading partners

Preparing for EDI implementation or traceability requirements 

Checking the accuracy of your barcodes 
Ask us how we can help.  
Contact our Service Engagement Team on 1300 227 263
Need help?
Want to know more about the benefits of standards in your industry?
Contact the GS1 Australia Healthcare team or phone 1300 227 263.
Did you receive this email as a forward and want to subscribe?
Enter your details

to join the Healthcare industry news mailing list.
Previous publications

  

If you have missed previous issues they are available for download.

CONFIDENTIALITY DISCLAIMER: The contents of this e-mail may be confidential or privileged and unless specifically stated are not to be regarded as a contractual offer or acceptance by GS1 Australia. If you are not the intended recipient, or if this email has been copied or sent to you in error, please advise the sender by return email, do not disclose the contents, and delete the message and any attachments from your system. GS1 disclaims liability for accuracy or completeness, and any opinions expressed are those of the author alone. GS1 may monitor communications. All rights reserved, third party rights acknowledged.
© 2020 GS1 Australia T 1300 BARCODE
GS1 Australia
8 Nexus Court
Mulgrave VIC 3170
1300 BARCODE
www.gs1au.org
If you wish to unsubscribe from this communications list, select the 'Preferences' link below and update your preference list.